MARIA ELENA PACHECO
Violin Player - James Last Orchestra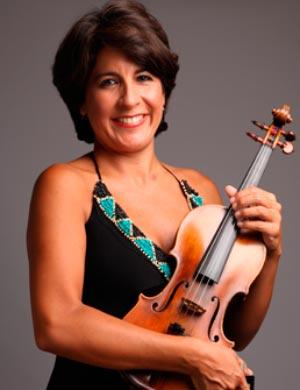 Born in Lima in 1964, she started her violin studies with Ruth Sereque, following with Yolanda Kromberger and Enrique Costa.

In 1981, she obtained a prize in the Nueva Acrópolis competition.

In 1983, Maria is accepted into the Hochschule für Musik Detmold (Germany), where she studied with professor Lukas David and graduated in 1990.

During her studies, she was a member of the Chamber Orchestra Tibor Varga and in several chamber groups in Germany.

From 1990 to 1997 she was a permanent member of the Nordwestdeutsche Philharmonie – Herfoerd (Germany).

In 1998, she returned to Peru to develop her activities as violin teacher and chamber violinist in concerts, where she is the head of the second row of violins of the National Symphony Orchestra (OSN) of Peru,

She has been soloist of the OSN, the Orchestra of the National Conservatory of Music (Peru) and several orchestral groups in several opportunities.

Maria Elena has an extensive activity of chamber music and performed several recordings, including investigations on how to play the violin following the local traditions in the Andes.

From 2000 to 2002, she collaborated with the Orquesta Sinfónica Andina del Cusco (Cusco Andean Symphohic Orchestra), and then, she took part of other ensembles that mix different musical languages.


With the James Last Orchestra:

Sources: