VIDEO INFORMATION
Live in Japan 1984 VHS
This is a concert in Japan of Raymond Lefevre and his Grand Orchestra in Japan, a very rare item.
~ Thanks to the help of my friend Hsieh Chih-Chien for supplying this information.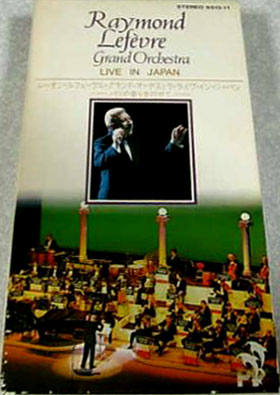 Release Information:
Conductor: Raymond Lefevre
At Shinjuku Kousei Nenkin Kaikan, Japan, on 1984.04.10
Running Time: 59 minutes.


Track Listing:
Cadette Rouselle

Ai no Corrida

Allegro Digital

Raymond Lefevre Piano Medley:


- Love Story
- Ne me Quitte Pas
- Les Parapluies de Cherbourg

Let's Dance

La Reine de Saba

Les Montagnes (Hokkaido Symphonie 1)

La Foret (Hokkaido Symphonie 2)

Carnaval des Neiges (Hokkaido Symphonie 3)

Kisetsu no Nakade

Automne en Irlande

Allegro de la 40ème Symphonie

Night Fright

Les 4 Seasons