Raymond Lefevre - Palmares des Chansons
This is an unofficial site devoted to the memory and works of the Maestro, Raymond Lefevre. We hope this will help bring together fans from all the over and keep the music alive!


This is NOT a site for downloads of music or videos. We only provide information for all Lefevre fans.


Les arrangeurs de la chanson française : 200 rencontres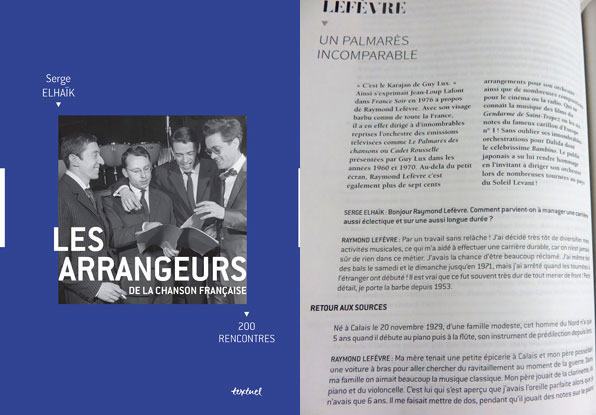 Mr. Serge Elhaik, author of the Une Vie En Bleu, the sensational biography on the Maestro Mauriat, has released an Encyclopedia of French Musical Arrangers of the French Chanson. It contains 2158 pages on French Arrangers and has chapters on Paul Mauriat, Raymond Lefevre, Caravelli, Gilles Gambus, and many, many others.
Raymond Lefevre World 10-volume CD
There is a Japanese boxset with 10 CD plus one bonus CD, a bonus book with photographs and comments plus a case. This compilation features a few rare tracks that are only available on CD on this boxset. Find the tracks listings and covers here, but the set is for sale only in Japan.
Also take a look at some information on the accompanying book.
Check the Visual Discography...

Click on the image and watch the covers!
Miscellaneous
Discography
Main Sections